A short blog post, but with a quick tip I have been using for many years. I often find myself in the Command Prompt looking at TCP/IP properties through ipconfig.exe and then need to edit these settings at the network adapter.
The way to open these properties seems to both change in every new Windows Server version and also get more and more complicated with dozens of mouse clicks through various Network and Sharing Center and similar views.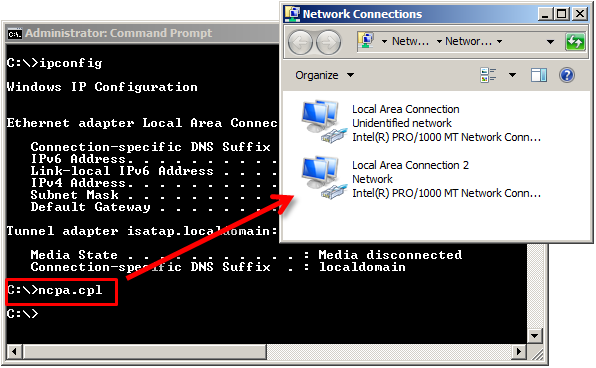 The quickest way to go directly to the network adapters is the command:
ncpa.cpl
This works from both the command prompt and also from the "Run" line, and is available in all versions of Windows, back to Windows Server 2003 and Windows XP, as well as all new versions available today including Windows 2012.
(It is also possible to use the command "ip" from the Run shell, but that does not work from the command prompt and is also only available in new Windows.)
By learning the name of the Control Panel applet "ncpa.cpl" it is always easy and works everywhere.