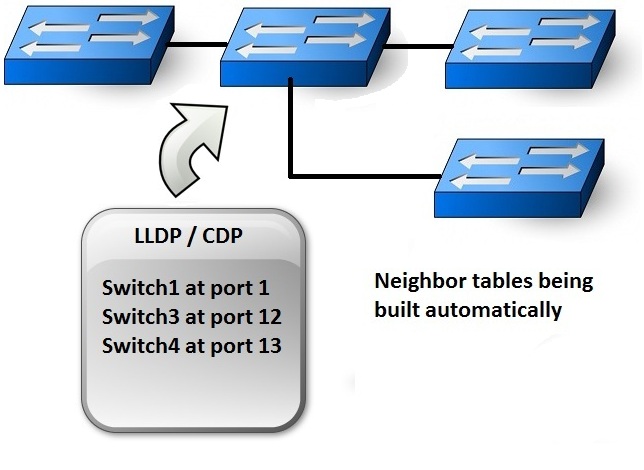 Earlier versions of vSphere had support for CDP, the Cisco Discovery Protocol, in both standard vSwitches and the newer Distributed vSwitches. In vSphere 5 we will now see the non proprietary LLDP introduced.
LLDP, meaning "Link Layer Discovery Protocol", is quite similar to CDP. Both Discovery Protocols share the goal of helping out the network administrator by building a small list of "neighbors", that is directly connected network devices, typically other switches. When doing switch re-configuration remotely it is often very useful to be able to "see out" from the switch and make sure the port that should be changed really is connected to the correct switch neighbor.
By running for example "show cdp neighbors" in Cisco devices or "show lldp info remote" on HP switches a helpful table is presented. The neighbor table is built from information the switches sends on each port, typically twice a minute.
The CDP method supported in vSphere 4.x is unfortunately proprietary to Cisco and while there exist at least five other vendor specific discovery protocols, this has led to obvious incompability issues when having network devices from different vendors. LLDP is a vendor neutral discovery protocol with about the same features as CDP and with a growing support from network vendors. HP has been running LLDP for a long time and most Cisco devices have support these days.
Since the virtual switches in the ESX / ESXi hosts are a logical part of the rest of the network it is nice that they have supported CDP before, both Standard and Distributed vSwitches. In vSphere 5 the new LLDP support is unfortunately for Distributed Switches only, available at Enterprise Plus license level. It would have been a good feature to be able to activate LLDP on standard vSwitches from the old esxcfg-vswitch command as before. Note also that LLDP is only available at the new version 5 of Distributed Switches and not on version 4 or 4.1.
(If you do not have Distributed vSwitches and not Cisco based physical switches you could still benefit from CDP, see this post for more information.)

It is enabled at the advanced settings of Distributed Switch, notice above that we can now select between CDP and LLDP. The default is as before: CDP being enabled when the dSwitch is created.

Note that to make the distributed switch actually send LLDP/CDP discovery messages to the physical network we have to change the Operation State of them. Default is to just listen, but can easily be changed to "Both" which means listen and send. This should be a good move which will simplify the work for technicians configuring the physical switches our vSphere 5 hosts connects to. See also this post for more information about the output from ESXi LLDP to the switches.